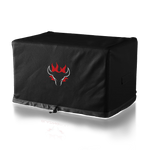 Free Grill COver With code: MEATWITHME
Click HERE to learn more about the Schwank!
Don't forget to use code: MEATWITHME
to receive a free cover!
Schwank Grill - the ultimate outdoor cooking experience!
Experience the ultimate in outdoor cooking with the Schwank Grill, the perfect choice for any grilling enthusiast. With its sleek and stylish design, the Schwank Grill is a must-have for anyone who loves to cook and entertain outdoors.
The Schwank Grill offers unparalleled cooking performance, with its high-quality construction, powerful burners, and precise temperature control. Whether you're grilling steaks, burgers, or vegetables, the Schwank Grill ensures that your food is cooked to perfection every time.
As an online butcher shop, we are proud to offer the Schwank Grill to our customers. With our affiliate link, you can easily order the Schwank Grill and start grilling up a storm in no time. And don't forget to use the code MEATWITHME to get a free grill cover with your purchase.
So why wait? Order your Schwank Grill today and start enjoying the ultimate outdoor cooking experience!